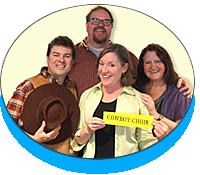 MEET THE BAND
Cowboy Choir is an acoustic musical group that plays classic country, timeless standards, early rock favorites as well as contemporary gems. Their guitars, bass, and violin provide the ideal backdrop for their voices that blend in perfect harmony. They have performed at various events and venues in the Chicago area and hope you will join them on the trail to a great time.
--- + -------------- + -------------- + -------------- + -------------- + ---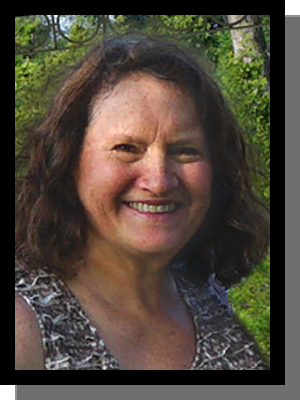 Carolyn Broquet:
Her day job is an Emmy award winning television editor, but Carolyn Broquet has entertained Open mic audiences at Davenports with Broadway numbers and selections from the American songbook. A vocal student at Old Town School for fifteen years, she has sung with the bands, "Higher Choir" and "Dukes of Yore", dipping into Motown and R&B, but now turns her talents to the guitar and the crowd-pleasing harmonies of "Cowboy Choir", with tunes ranging from Patsy Cline to James Taylor to Fleet Foxes.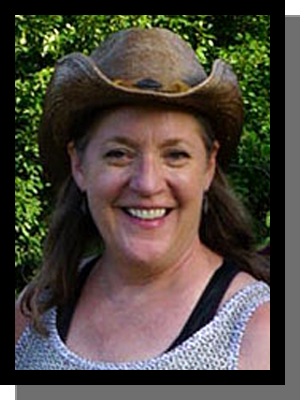 Sandra Pillar:
Sandra grew up in a musical family and learned to sing harmony from the Methodist hymnal. Vocal lessons at the Old Town School of Folk Music encouraged her to pursue solo singing. In addition to her stellar voice, Sandra also plays the violin which she rediscovered as an adult when the Chicago Temple formed a string group. You might even catch her playing guitar on a couple of Cowboy Choir tunes. She is formerly a member of The Spanktones.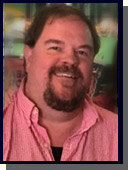 Andy Burnett:
While growing up in Ohio, Andy started off playing saxophone. After moving to Champaign, Illinois, he began playing electric bass with the group Projectronics. Andyís fretted, acoustic bass provides a rich, full tone that perfectly complements Cowboy Choir's acoustic guitars.
David Rowley:
While growing up in Chicagoís Little Village neighborhood, holidays for David had an uncommonly old-fashioned feel; his mother and aunt would entertain the family by singing jazz standards from the 1930ís and 1940ís in close harmony. His interest in folk music was sparked through his fatherís record albums, and he began playing the songs on piano and guitar. David studied the structure of barbershop harmonies while a member of the Shoreliners Chorus. As a student at the Old Town School of Folk Music, he contributed several vocal arrangements to the Doo Wop Ensemble. David is Cowboy Choir's music director and contributes tight vocal arrangements to the group's repertoire.